2016 9/11 Stair Climb Event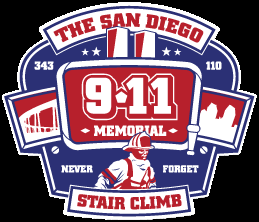 Last year was a historic year for the RSF Firefighters Local 4349 Stair Climb Team as we had our largest team ever and we became a fundraising powerhouse for the benefitting charity, FirefighterAid. It was awesome to see our Local come together to remember 9/11, along with wives, kids, and friends. The proceeds from our fundraising events combined with individual fundraising efforts propelled us to the #2 Honor Team spot while bringing in $10,497.00 for FirefighterAid!
This year's event marks the 15th Anniversary of 9/11, and takes place Saturday, September 10th at 8:00 a.m. (B-Division) at the San Diego Hilton Bayfront.
Early registration is now open for the 2016 9/11 Stair Climb. Registration prices increase on May 23rd! Our team page has been set up (although we are working on some technical glitches getting pics up). Here's how to join the team:
Click on Wall of Heroes, read about the 403 first responders who lost their lives on 9/11, then decide on a hero to climb for
Click on Register (view prices here and schedule of events), click Register for this Event
On the right side, click Join a Team
Type in Rancho Santa Fe Firefighters Local 4349
Continue through the registration process
Customize your fundraising page and get the word out
Your registration costs go toward all the logistics of the climb, and is not a donation to the charity. All registrants are asked to fundraise an additional $110 ($1 for each flight of stairs). If every climber did that, FirefighterAid would meet their goal to raise $100,000.
As a team member, we will be asking for your support of team fundraising efforts. So far, we have one fundraiser planned for this summer, and another in the works. We hope you will come out to support the team. At the very least, we ask that you help promote the events and invite friends, family, and neighbors to support us. If you have an idea for a fundraiser that you'd like to head up, or a connection to a business that would like to help us, please let us know.
Save the Date:
Pint Night at Devilicious Eatery & Tap Room, Temecula
Wednesday, June 22 (C-Division), 5:30 - close
This is Genevieve Ligtenberg's brother's restaurant - so thank you to the Ligtenbergs for helping coordinate this event!
Firefighters Ice Cream Social @ Baskin Robbins, 4S Ranch
Date TBD